The Model View Presenter (MVP) is a design pattern that is particularly useful for implementing user interfaces in such a way as to decouple the software into separate concerns, such as those intended for data processing and storage (model), business logic, the routing of user commands, etc, thereby making more of your code available for unit testing.
The MVP design pattern separates the following concerns:
The Model. Stores the data to be displayed or acted upon in the user interface.
The View. A passive user interface that displays the model data and routes user-initiated events such as mouse click commands to the presenter to act upon that data.
The Presenter. Acts upon the model and the view. It retrieves data from the model, and displays it in the view.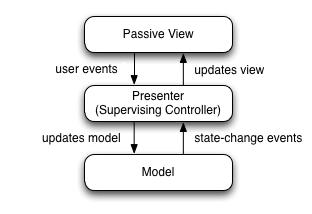 Continue reading 'The Model View Presenter pattern in C# – a minimalist implementation' »